Analisis Emisi dari Penggunaan Refuse Derived Fuel sebagai Bahan Bakar Alternatif di Industri Semen (Studi Kasus di PT Solusi Bangun Indonesia Cilacap)
Keywords:
Emisi Cerobong, Industri Semen, Pengelolaan Sampah, Refuse Derived Fuel
Abstract
Sampah adalah masalah bagi setiap orang karena selalu dihasilkan setiap harinya dan sepanjang tahun. Untuk menghindari terjadinya kekurangan lahan untuk tempat pembuangan akhir perlu dilakukan penanganan pada sampah yakni salah satunya dapat dengan mengubah sampah menjadi sumber energi seperti misalnya pembuatan RDF (Refuse Derived Fuel). Sejauh ini pemanfaatan RDF skala besar sebagai bahan bakar alternatif baru diterapkan di PT. Solusi Bangun Indonesia Cilacap. Studi ini mengkaji tiga aspek, yaitu spesifikasi bahan bakar alternatif yang digunakan, data emisi dari cerobong, dan data kualitas udara ambien. Dari data produksi diketahui RDF yang dipakai mempunyai spesifikasi nilai kalor sebesar 3991 Kcal/kg, persentase abu sebesar 17,31%, dan kandungan air sebesar 24,23%. Data emisi dari cerobong Kiln-Raw Mill menunjukkan bahwa untuk parameter partikulat, SO2, NOx, HF, HCl, dan CO sebesar 16 mg/Nm3, 36 mg/Nm3, 178 mg/Nm3, 0,4 mg/Nm3, 14 mg/Nm3, dan 16 mg/Nm3. Sedangkan rata-rata hasil pengukuran ambien untuk 10 lokasi di sekitar pabrik untuk parameter partikulat debu (TSP), PM10, PM2.5, SO2, NO2, CO, O3, HC, dan Pb sebesar 75 mg/Nm3, 30 mg/Nm3, 16 mg/Nm3, 31,5 mg/Nm3, 25,5 mg/Nm3, 1164 mg/Nm3, 34 mg/Nm3, <66 mg/Nm3, <0,002 mg/Nm3. Data hasil pengukuran emisi maupun ambien mempunyai nilai di bawah baku mutu yang berlaku
Downloads
Download data is not yet available.
References
Agustina, H., & Sutamiharja, R. (2015). Emission Estimation Model of Dioxin / Furan Releases from Cement Industry Used Wastes in Co-Processing. www.theinternationaljournal.org
Ames, M., Zemba, S., Green, L., Botelho, M. J., Gossman, D., Linkov, I., & Palma-Oliveira, J. (2012). Polychlorinated dibenzo(p)dioxin and furan (PCDD/F) Congener Profiles in Cement Kiln Emissions and Impacts. Science of the Total Environment, 419, 37–43. https://doi.org/10.1016/j.scitotenv.2011.12.062
GIZ-LafargeHolcim. (2020). Guidelines on Pre-and Co-processing of Waste in Cement Production Use of waste as alternative fuel and raw material. www.fhnw.ch
Ismawati, Y., Proboretno, N., Septiono, M. A., & Zaki, K. (2022). Refuse-Derived Fuel in Indonesia. www.ipen.org
Jeno, J. G. A., Rathna, R., & Nakkeeran, E. (2021). Biological Implications of Dioxins/Furans Bioaccumulation in Ecosystems. Environmental Pollution and Remediation. Springer, Singapore, 395–420. https://doi.org/https://doi.org/10.1007/978-981-15-5499-5_14
Kara, M. (2012). Environmental and Economic Advantages Associated with the Use of RDF in Cement Kilns. Resources, Conservation and Recycling, 68, 21–28. https://doi.org/10.1016/j.resconrec.2012.06.011
Karpan, B., Abdul Raman, A. A., & Taieb Aroua, M. K. (2021). Waste-to-energy: Coal-like refuse derived fuel from hazardous waste and biomass mixture. Process Safety and Environmental Protection, 149, 655–664. https://doi.org/10.1016/j.psep.2021.03.009
Karstensen, K. H. (2006). Formation and Release of POPs in the Cement Industry Second Edition.
Karstensen, K. H. (2008). Formation, release and control of dioxins in cement kilns. In Chemosphere (Vol. 70, Issue 4, pp. 543–560). Elsevier Ltd. https://doi.org/10.1016/j.chemosphere.2007.06.081
Kaza, S., Shrikanth, S., & Chaudhary, S. (2021). More Growth, Less Garbage. https://doi.org/10.1596/978-1-4648 -1329-0
Kementerian Lingkungan Hidup dan Kehutanan. (2023). Sistem Informasi Pengelolaan Sampah Nasional. https://sipsn.menlhk.go.id/sipsn/public/home/fasilitas/rdf
Ministry of Foreign Affairs of Denmark. (2022). Overview of Danish Support for Refuse-Derived Fuel (RDF) Cilacap.
Mutz, D., Hengevoss, D., Hugi, C., & Gross, T. (2017). Waste-to-Energy Options in Municipal Solid Waste Management, A Guide for Decision Makers in Developing and Emerging Countries. www.giz.de
Nur Alfianto, P., & Puji Lestari, dan. (2014). Analisis Emisi Debu dan Partikulat Terhadap Penggunaan Bahan Bakar Alternatif di Industri Semen. In Jurnal Teknik Lingkungan (Vol. 20).
Paramita, W., Hartono, D. M., & Soesilo, T. E. B. (2018). Sustainability of Refuse Derived Fuel Potential from Municipal Solid Waste for Cement's Alternative Fuel in Indonesia (A Case at Jeruklegi Landfill, in Cilacap). IOP Conference Series: Earth and Environmental Science, 159(1). https://doi.org/10.1088/1755-1315/159/1/012027
PT Solusi Bangun Indonesia. (2021). Laporan Tahunan 2021.
Purnomo, C. W. (2020). Solusi Pengelolaan Sampah Kota. Gadjah Mada University Press.
Saha, P. K., & Karstensen, K. H. (2019). Co-processing of Alternative Fuels and Resources in Indian Cement Industry—Baseline and Potential. In Waste Valorisation and Recycling (pp. 19–29). Springer Singapore. https://doi.org/10.1007/978-981-13-2784-1_2
Sayad, T., Moursy, F. I., El-Tantawi, A. M., Saad, M., & Morsy, M. (2023). Assessment the impact of different fuels used in cement industry on pollutant emissions and ambient air quality: a case study in Egypt. Journal of Environmental Health Science and Engineering, 21(1), 107–121. https://doi.org/10.1007/s40201-022-00844-9
Themelis, N. J., & Ulloa, P. A. (2007). Methane Generation in Landfills. Renewable Energy, 32(7), 1243–1257. https://doi.org/10.1016/j.renene.2006.04.020
van Loo, W. (2008). Dioxin/furan formation and release in the cement industry. Environmental Toxicology and Pharmacology, 25(2), 128–130. https://doi.org/10.1016/j.etap.2007.10.031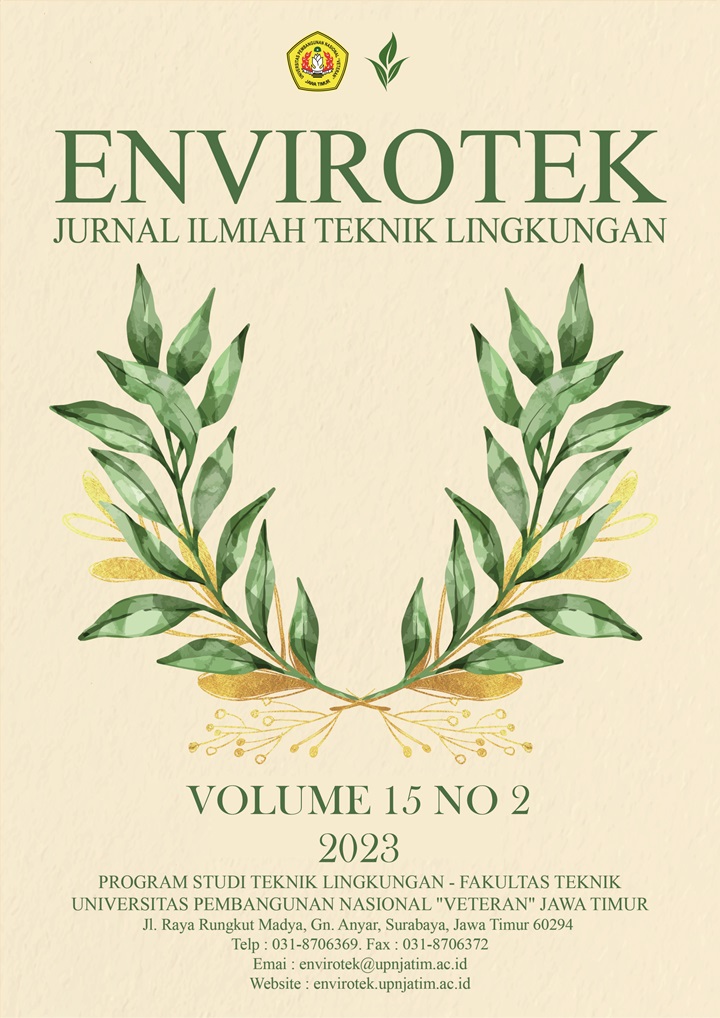 Downloads
How to Cite
Prariesta, D., Edahwati, L., & Karaman, N. (2023). Analisis Emisi dari Penggunaan Refuse Derived Fuel sebagai Bahan Bakar Alternatif di Industri Semen (Studi Kasus di PT Solusi Bangun Indonesia Cilacap) . Envirotek : Jurnal Ilmiah Teknik Lingkungan, 15(2), 194–199. https://doi.org/10.33005/envirotek.v15i2.282
License
Copyright (c) 2023 Dita Prariesta, Luluk Edahwati, Novel Karaman
This work is licensed under a Creative Commons Attribution 4.0 International License.